My first really big KCBS competition is in Nashville March 11-12. Decided it'd really do me good to do a test run on the Jambo yesterday. Found a nice choice brisket at wally world, cooked a pork collar from SRF (very illegal in KCBS!), a rack of loin ribs and a rack of spares and a dozen chicken legs.
Decided to cook hot and fast and all wood/charcoal. Started a charcoal fire in my 18″ WSM charcoal ring, added a couple of pecan logs on top. Mixed it up pecan and cherry wood. Cooked about 6 hours total
Trimmed up the brisket. Weighed the fat. 8.5 pound brisket — a little over 3 pounds of fat. This was an Excel choice packer. Net result about 5 lbs of beef. It was the best of what I cooked.
Pork collar weighed about 4.5 lbs. Didn't trim. Just seasoned. It was okay — IMO, pork just does better texture wise cooking low and slow.
Ribs, I tried hanging with PBC hangers and some rods across the Jambo's microwave shelf brackets. Didn't like the drapy look. Took them off after about an hour and laid them flat. Tried a different recipe — wasn't impressed!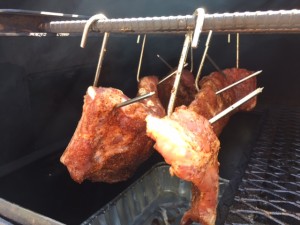 Chicken — wasn't good. Tried a brine with salt and molasses. Really funky. Way too smoky for my taste.
Cleaned the cooker out real good on Monday evening. Ready to cook for real on Friday night!